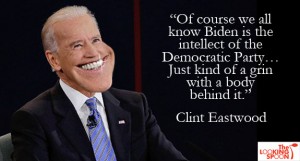 Obama must be worried about David Cameron's decision to hold an in/out referendum on UK's membership of the EU – he is sending VP Joe Biden to London to issue a stern warning.
Wow
Joe Biden – the man who proves that getting into politics is a better way of making a family fortune than developing software or building a supermarket chain…..no risks, minimal effort and zero intelligence needed – just the right contacts.
Biden will apparently wag his finger at Cameron and emphasise how important it is for the USA to have a strong UK in a strong EU – that's if he can get all those letters in the right order for Biden is the American version of John Prescott, a dim-witted blowhard who has risen to the top powered purely by his own methane.
Of course if he had been a Republican he would have been Dan Quayled years ago but we all know that a complicit US media never goes against Democrats who are also drunks, druggies, thieves , sexual predators…..or, in Joe's case, brainless.
After all this is the man who plagiarised a speech from ……Neil Kinnock!!!!!
What a wonderful world……