Great news – with the publication of this it is clear that those rumours about the appointment of Thomas C Sharp as a Washington Post 2012 Election consultant appear to have a certain degree of substance. Just as Adolf Eichmann was regarded by the Nazis as an "expert" on Jews so Mr Sharp is an "expert" on Mormons.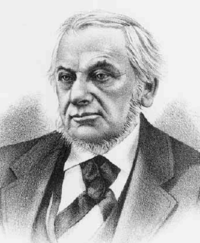 War and extermination is inevitable! Citizens ARISE, ONE and ALL!!!—Can you stand by, and suffer such INFERNAL DEVILS! to ROB men of their property and RIGHTS, without avenging them. We have no time for comment, every man will make his own. LET IT BE MADE WITH POWDER AND BALL!!!
Like Eichmann Mr Sharp was also a man of action, playing a leading role in the raid on the Carthage Jailhouse in June 1844 when the Mormon leader Joseph Smith and his brother were murdered. He and others were charged with murder but were acquitted by a sympathetic jury.
Mr Sharp's role will be to select historical references to Mormons which can be used to suggest that they are strange and a little sinister and therefore putting a Mormon like Mitt Romney in the White House might turn Washington into another Nauvoo.
Mr Sharp has apologised for his untoward behaviour in 1844. "I was a young man and hot tempered. Now I am 194 I have matured in my views…I no longer see Mormons as the devil's spawn, just as a bunch of weirdoes who don't like hope and change.."
Indeed at this very moment Mr Sharp has despatched scores of WaPo "investigative journalists" to Utah to track down Romney's multiple wives currently undercover until January 2013….