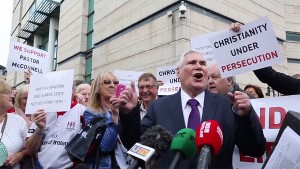 Evangelical Protestant preacher Pastor James McConnell from Belfast is, unlike many 21st century public figures, not a man given to nuance. Such a character, naturally, fits awkwardly with the modern state which increasingly seeks to discourage vigorous and robust debate. Hand in hand with the legions of the easily offended who patrol social media to hunt out and silence anyone who upsets their sensibilities our political and judicial masters are happy to enact and enforce laws to metaphorically cut out the tongues of those refuse to avoid giving "offence"
Thus Pastor McConnell, as a result of a sermon he preached to his congregation in May 2014 that was also streamed over the internet was charged with improper use of a public electronic communications network and causing a grossly offensive message to be sent by means of a public electronic communications network.
The state sought to punish him for making this statement.
'Today we see powerful evidence that more and more Muslims are putting the Koran's hatred of Christians and Jews alike into practice. 'Now people say there are good Muslims in Britain, that may be so but I don't trust them. Enoch Powell was right and he lost his career because of it. 'Enoch Powell was a prophet and he told us that blood would flow in the streets and it has happened.

'Fifteen years ago Britain was concerned of IRA cells, right throughout the nation they done a deal with the IRA because they were frightened of being bombed. Today a new evil has arisen. There are cells of Muslims right throughout Britain. Can I hear an Amen?

'Right throughout Britain and this nation is going to enter a great tribulation and a great trial. To judge by some of what I have heard in the past few months you would think that Islam was a little more than a variation of Christianity and Judaism, not so. 

'Islam's ideas about God about humanity, about salvation are vastly different from the teaching of the Holy Scriptures. Islam is heathen, Islam is satanic, Islam is a doctrine spawned in hell.' 
Words, claimed the prosecution, deliberately designed to offend Muslims.
Not so, said the Pastor.
no way I was out to hurt them – I wouldn't hurt a hair on their head. But what I am against is their theology and what they believe in.
But, from the moment he was charged he remained defiant and said that he would not stop preaching the Christian gospel even if the price was finding himself behind bars.
Certainly there were expectations that the state's aim of shutting him away in a cell would come to pass in this age of tender feelings. But a miracle happened – or rather an equally unexpected manifestation – a justice with common sense in the person of District Judge Liam McNally.
'The courts need to be very careful not to criminalise speech which, however contemptible, is no more than offensive. 'It is not the task of the criminal law to censor offensive utterances. 'Accordingly I find Pastor McConnell not guilty of both charges.'
I rejoiced at that judgement. I might or might not agree with the Pastor on what he said. But I would be outside the courthouse clapping the verdict. Not because I supported his sermon – but because I supported his right to preach it. Just as I would be perfectly entitled to then stand up on a soapbox and rip into everything he said.
It is incredibly illiberal for the state to police hatred. Hatred might not be big or clever, but it's only an emotion. And officialdom has no business telling us what we may feel — or think, or say, or write. Allowing the state to monitor belief represents a brutal reversal of the Enlightenment itself. John Locke, in his Letter Concerning Toleration (1689), set the tone for the Enlightenment as an attempt to 'settle the bounds' between the business of government and the business of morality. 'The business of laws is not to provide for the truth of opinions, but for the safety and security of every particular man's goods and person', he wrote. That ideal is now turned on its head. Across Europe, governments 'provide for the truth of opinions', and in the process they silence those they don't like and patronise the rest of us, reducing us to imbeciles incapable of working out what is right and wrong, and of speaking out against the wrong.
A small but significant victory in the fightback against a censorship being imposed by those who consider themselves morally superior to the rest of us. But we must resist the temptation to sheathe our swords.
There will be many more Pastor McConnells to defend…..