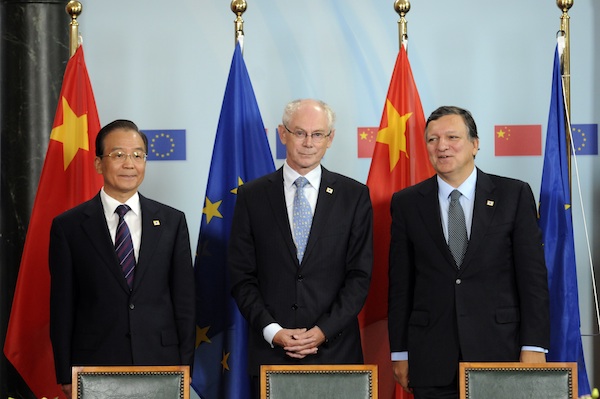 Pictured above are (from l to r), former Chinese Premier Wen Jiabao, Herman Van Rompuy (President of the EU Council) and Jose Manuel Barroso (President of the EU Commission) at a China/EU summit held a few months ago.
What does each of them have in common? They represent the leadership of two powerful global economic blocs that wield power over millions of people.
What else? They reached their positions of power, not through election by millions of their fellow citizens but via a secretive cabal of a select few – the higher echelon of the Communist Party in Wen's case and  the Heads of State in the EU for the other two.
In other words none of them were mandated by their people via the ballot box. They were essentially selected by their own fellow oligarchs who regard themselves as the elite who deserve to rule rather than submit themselves to whims of the great unwashed.
Indeed Barroso (a Maoist revolutionary in his Portuguese student days) has been quoted as fully supportive of that elite notion.
Governments are not always right. If governments were always right we would not have the situation that we have today. Decisions taken by the most democratic institutions in the world are very often wrong.
Ah, the government of the experts or, as Thomas Sowell called them, The Anointed, so much cleverer than the voting masses who do not have the brains to understand the complexities of thw world's problems…
Really?
Voters, being human, can make mistakes. But it doesn't follow that a class of experts would have made a better decision. Just think about some of the positions that "the experts" have taken down the ages. In the 1920s, they were for returning to gold at the pre-war rate. In the 1930s, they were for appeasement. In the 1940s, they were for nationalisation. In the 1950s they were for state planning. In the 1960s, they were for mixed-ability, child-centred teaching. In the 1970s, they were for price controls. In the 1980s, they were for the ERM. In the 1990s they were for the euro. In our own decade, they were for the bail-outs and stimulus packages.
Or, as William Buckley once put it
"I would rather be governed by the first 2000 people in the Manhattan phone book than the entire faculty of Harvard."

Well, Mr Buckley – China and the EU would certainly not agree with you on that point..
China and the EU – "Making the world a safer place for bureaucracy"
Why is it that Franz Kafka is never around when you need him…