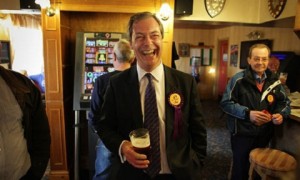 UKIP's leader Nigel Farage has a letter box mouth, eyes that look as if they will pop out on stalks at any moment and a face that seems to pull in different directions on the cusp of every grin. When he speaks he sounds very much like an on course bookmaker shouting the odds. His views are disdained by the media elite and the political class and you are unlikely to find him at any North London dinner party. He is a PR consultant's nightmare….
….and yet he and the party he leads, long dismissed as a collection of nutcases, fruitloops and pub bores is edging near to 20% in opinion polls. When he appears on BBC Question Time, for years the graveyard of right wing pundits thanks to its chattering class chairman and an audience carefully selected to skew leftwards, he always goes down well. He also proves more than a match for the great and the good on the panel who discover much to their chagrin, that he is remarkably articulate and skilful in debate.
It's not so much his euro sceptic views that win him support (though that must never be dismissed as a factor) but his very lack of smoothness, his everyman persona that immediately detaches him from our ruling class, the wealthy, soft figures like Cameron, Milliband and Clegg who have never really had long term experience of work outside politics and who began their rise to the top three quarters of the way up the ladder thanks to influential families and friends.
It is these characters and their cheerleaders in the media who paint Farage and his party as buffoons who could never be trusted to make tough decisions and run the country in an effective and efficient manner – as if their years of governing have not been years of failure consisting mainly of short term, short sighted and flashy "initiatives" threaded with lies and undelivered (and often undeliverable) promises.
Farage is an outsider, he is not of the political class and is not constrained by the conventions of that class. Have a look at this video – unlike many featuring Farage it is not a two minute sound bite designed to make public impact. Forget the cartoony face and the odd diction – just concentrate on what he is saying and then ask yourself if this man is speaking for you rather than speaking at you.
You might be surprised at your reaction.
This man may be political gold.