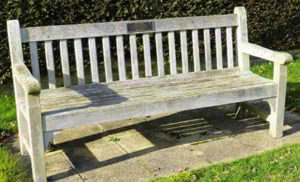 There was a bus stop near our school that had a long wooden seat nearby set into a strip of grass and a small, engraved plaque on the back rest which said it had been provided by a couple in memory of their daughter. But the seat itself was quite a few years old and was in a state of considerable disrepair.
Our then headteacher, Mr B, was an old school community chap, a former scout leader and active Rotarian. We were a tad undersubscribed and our exam results were the lowest in the borough. He therefore felt a bit of positive PR would not go amiss so during a senior management meeting he suggested that our woodwork department could gain some kudos for the school by bringing the seat in, repairing the several broken slats and give it a bit of an overall facelift. We might even invite a photographer from the local paper.
My colleague deputy head did not appear over enthused, muttering something about it was up to the council. Mr B replied that he had made enquiries, and nobody knew much about the seat's history or the whereabouts of the couple who had provided it.
An awkward silence ensued so I said I would broach the matter with the head of our craft department if someone else would deal with the media. Mr B had local media contacts via Rotary and said he would handle that.
The next day I went along to the craft workshops and put the head of department in the picture. I stoically endured the predictable ten-minute barrage about time and material and the demands of the syllabus and then he passed me on to Mr W, a younger member of his staff which was good news because this guy was much more imaginative and got better work from the kids.
We decided that a couple of Year 11 lads, Jock and Billy, would be the ideal "volunteers" for the task. They were both good with wood and metal though in several other subjects they could be "challenging". Their absence for a while from one or two subject area while they worked on the seat would not be particularly unwelcomed. Our head saw it as a win win – good PR for our school and a chance for a pair of our more awkward students to have the opportunity to bathe in the glow of a more positive light.
So, the appointed day came. The plan was for Mr W to take Jock and Billy to the seat with some tools, supervise them detaching the seat from the base while the press photographer did a bit of papping then walk back to school with the tools while Jock and Billy carried the seat.
In actual fact the seat was more awkward to carry than anticipated so Mr W found himself well ahead of the lads when he heard a lot of shouting. He turned around to see a little old lady had turned up out of the blue and was waving her stick at Jock and Billy and shouting "vandals" thieves" "scum" while the photographer was standing open mouthed and cars were stopping on the road.
Jock and Billy had dropped the seat and were covering their heads, frightened that she was going to hit them with her stick.
Fortunately, I was already standing at the school gate waiting for the seat to be brought on so I rushed towards the fray – much to the relief of Mr W who simply was not used to this sort of public fracas.
I stood between her and the lads in a defensive posture still anticipating a blow from her stick but the sight of a suit and tie must have not quite fitted into her perception of a couple of louts stealing a seat in order to smash it up in an orgy of vandalism.
Fortunately she paused to take a breath and I was able to explain that far from smashing it up we were taking it into the school to repair it and make it presentable again. She looked shamefaced and started to cry and Jock, the hard knuckled toughie from Glasgow took her in his arms and gave her a cuddle while Billy dragged out a grubby handkerchief to wipe her tears and I whispered to the camera guy "Take a f******* pic now" but it didn't register so he never got the pic that could have gone viral.
I suggested to the lady that she walked with us to the woodwork centre so she could watch the lads start on the seat. But instead, when they reached the workshop, they dropped the seat and sat her down and made her a brew and we all listened as she told us how she'd seen local youths vandalising the bus stop and the seat in the past and decided she wasn't going to take it anymore.
After she went I told the lads how proud I'd been of their unusually restrained reaction the her tirade. "That's nothing, Mr R. You should see my nan last term when you rang her and said I was excluded for a week for swearing at Mr Y – I had to keep out of her way for three days until she calmed down……nothing worse than when you let down your nan"
I remembered then that like a few other "challenging" youngsters in our school Jock had been sent down from Scotland to live with his seventy five year old grandmother. I could just imagine the strain and stress of having to cope with an awkward teenager when your contemporaries were relaxing with a cup of tea and a bingo card. But I also knew that Jock thought the world of his grandmother.
A few days later Jock and Billy had repaired and refurbished the seat, it was returned to site and the local paps were there while the head made a little speech congratulating the two lads. We had hoped to invite the little old lady to take part in the ceremony but in all the upheavals none of us had remembered to take her name and address, the pap had failed to snap her and none of us had recognised her. As Billy said she just looked like someone's nan.
Some weeks later, after I spotted Jock by the bike sheds when he should have been waxing lyrical about Jane Austen and he was able to dog his fag before I could actually catch him in the act and was walking him back to his English lesson, he suddenly brought up the mystery of the old lady.
"Funny how nobody knew her, sir. I reckon she could have been the ghost of the mum who put up the seat in the first place".
"Could be, could be, Jock" I said "Almost as much of a ghost as that cigarette you were smoking by the bike shed…"
He just grinned and walked towards another exciting date with Jane Austen….