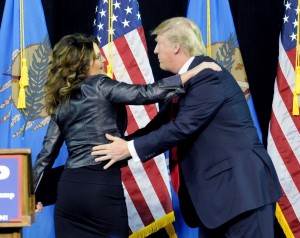 You would think that a really serious newspaper, a really serious right leaning broadsheet like The Daily Telegraph would, after seven months realise that a man who has topped almost every poll for the Republican Party nomination prior to the forthcoming primaries would have struck some sort of chord with American voters.
The fact that he is not a politician but a businessman, a reality TV star with a larger than life reputation and a habit of "telling it how it is" and a fairly colourful CV would have at least piqued the interests of the solemn if rather pompous conservative young fogeys who pontificate daily from the elevated levels of Canary Wharf.
But it was not to be.
Yes, in the summer months when both the UK and US media regarded Donald Trump as a one hit wonder, an amusing interlude before the big boys like Jeb Bush and Scott Walker came out to play, the DT was full of jokey references and patronising asides. Hacks laughingly described as "US correspondents" performed their regular ritual of cutting and pasting quotes from the Washington Post and New York Times, presenting them as if they were golden nuggets of reportage gleaned from weeks of pounding streets from coast to coast and wearing out their own shoe leather.
All the pundits from left and right, every single self-important media figure and academic and, above all, the ghastly regiments of political consultants and operative who leech off the American body politic – they all dismissed Trump's prospects with a disdainful sneer.
But as the autumn months got closer and Trump refused to fade the political class and their media parasites fell strangely silent – and so did the Telegraph and its hacks. There was very little reporting of the polls or the massive crowds attending Trump's rallies because somehow it didn't quite gel with the narrative of Trump the clown.
Until l he was endorsed by Sarah Palin – and the Telegraph went full frontal. The Telegraph Polly Fillers in particular unleashed their claws, presenting Palin as some sort of shrill, screeching fishwife who had entered the US scene as an Alaskan version of Kim Kardashian via a tasteless TV reality show. That she had been a very popular state governor, an insurgent crusader against a corrupt Republican establishment in the pocket of Big Oil as conveniently omitted.
The Telegraph campaign against Trump finally reached its crescendo with an article penned by former BBC hack Matt Frei, pimping his Channel 4 documentary, sneering at Trump, his supporters and, of course Palin (including the totally false claim that her selection by McCain as candidate for VP lost him the 2008 election). A day or so later one of the Telegraph's boy wonders, a young man with zero knowledge of US politics outside of watching "The West Wing", grandly proclaimed as the torpedo that would finally sink The Trumptanic.
At no time has there been any serious attempt in the pages of the Telegraph to present a serious analysis of the key question – why has Trump, derided by the media, the punditocracy and the professional political class, has nevertheless gained such support. There has been nothing about the apparent extent of blue collar support, much of it from traditionally Democrat voting swathes of the electorate or the suggestion that he has a significant degree of interest from black voters. No mention either of some evidence that he has reached across to women and younger voters.
There is, at times, a reference to "anger" about illegal immigrants and their willingness to work for wages much lower than the American born working class. – or social and economic upheaval caused by the outsourcing of manufacturing jobs to Asia. But the DT hacks never dig deeper into that manifestation of anger or pursue a line of thought that might question the inevitability of such a process.
Above all, our "journalists "are unwilling to confront the truth of the high degree of contempt felt by ordinary Americans for the media and its refusal to raise those issues in print or on air for fear of falling foul of the great god of the comfortably off chattering classes, the god of political correctness – buttressed, of course, by the availability of a cheap immigrant servant class that allows them to live a very comfortable life at very low cost.
A pity, for, once upon a time, the Telegraph really was a newspaper that treated the world seriously. Unfortunately, it has whored itself out to shallowness and empty posturing