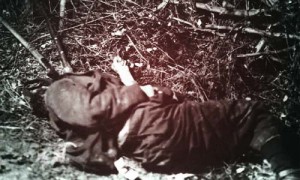 The next time you visit Stratford-Upon-Avon go to Lower Quinton some eight miles away for in 1945 this sleepy village was the scene of one of the most mysterious unsolved murders of recent times, a crime which even frustrated the celebrated Scotland Yard detective Chief Inspector Robert Fabian. The renowned down-to-earth thief taker was convinced the murderer used the smokescreen of black magic to cover up a more mundane motive but others insisted the crime had the smell of witchcraft about it. Even now, nearly seventy five years later, those who live in the village remain tight lipped….after all it has been written of Warwickshire "This is the country of the spook and the witch; of the spirits that haunt the hillsides; of the demon that halts horses in lonely roads and makes them refuse to take another step"
On St Valentine's Day 1945, the mutilated body of 74 year old farm labourer Charles Walton, who lived his whole life in the sleepy village of Lower Quinton some eight miles from Stratford-Upon-Avon, was found on the nearby slopes of Meon Hill. Walton had set out at 8am that morning from the small cottage he shared with his niece, Edith Isabel Walton, for a day's work hedge-cutting for local farmer Alfred Potter.

Riddled with rheumatism, the ageing villager carried with him his walking stick and the tools of his trade; a pitchfork and a billhook. When his corpse was discovered later that evening, all three of those implements had been used to end his life in the most horrifying of ways…….