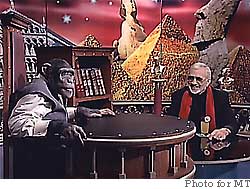 Celebs pimping their latest book, film, album, play or tour on TV chat shows….
It's as inevitable as a starving public sector worker sobbing over Tory "cuts" in a  BBCQT audience – or the presence of some unfunny left wing privately educated "comedian" on HIGNFY.
The reasoning is quite straightforward, of course. It's a relatively cheap format and certainly not labour intensive. Most of the preparatory planning is driven by publicists, agents and PR drones hustling for a bit of action. The set, once constructed, can be wheeled out time and time again and you can bet your boots that there will be zero tension filled moments. The stage will be swirling with ersatz bonhomie, fixed smiles and false laughter and the celeb will be treated as a veritable genius of comedy or music or whatever.
It's Polyfilla TV, padding out premium broadcasting space and making life simpler for the schedulers..hence the ubiquitous presence of chat shows on every channel….but especially the BBC.
And it's the Beeb which must provide us with a particular problem. Over the weeks the celebs tramp though BBC Breakfast, The One Show, Graham Norton and several others all with something to sell. Tickets, books – they are marketing a product, they are ADVERTISING…..
Such a dirty word on the advert free Beeb – yet their publicist or the studio or the record company or the publisher are plumping these celebs in front of the cameras and onto our screens to make money. What's more, with their appearance fees the celebs are being paid to encourage us to buy more stuff – paid out of the poll tax levy taken out of our pockets and pursed via the TV licence fee.
No wonder they're all grinning like imbeciles and slapping each other on the back – it's trebles all round courtesy of the taxpayer.
So here's a suggestion to balance the scales just a little. From the moment the chat show airs all  payments to the celeb from sales of tickets, records, book etc. should be taxed at, say, 5% and, at the end of the financial year, the total should be re-distributed to TV licence payers as a bonus for putting up with these self-important grinning morons for another year….
Simples…