From 1964 until 1972 I was a teacher at London's leading Jewish state school, JFS Comprehensive. It was my first full time teaching post and the eight years I spent there, teaching history, were amongst the happiest of my career.
In July/August 1968 and again in 1969 my wife and I went with a group of colleagues and sixth formers from JFS (then in the London Borough of Camden) to Israel for six weeks to help Israeli students with their English and also to tour around the country….our JFS leader was Manny Klein, a very lively teaching colleague. It was soon after the Six Day War so we also visited the West Bank, East Jerusalem, Gaza & Sinai and the Golan Heights.
Almost everyone in our party was Jewish but not my wife  or myself. Nevertheless we felt a great rapport with our Israeli students and our hosts at the settlement of Merkaz Shapira, about ten miles east of Ashkelon, particularly our guide, Chaim and Eli and Rachel Naaman who travelled with us on our tours
Our students were Ruth, Halea, Hania, Shula, and the two Rachels. There they are in the picture below. They were good company and keen to hone up their English skills. They knew that their generation would be leading Israel into maturity as a nation and had great pride in what had already been achieved. As the decades have passed I often wondered what had become of them through all the ups and downs of the ensuing years. They would, hopefully, be grandparents now – I wonder what tales they could tell….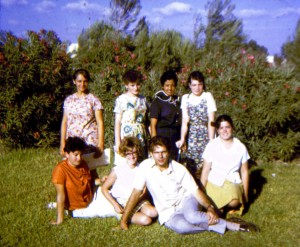 R to L Top: Ruth, Halea, Hania, Rachel Bottom: Shula, Beryl, David, Rachel
As to our Israeli hosts -Chaim was a real character, bursting with energy, a brilliant guide who was desperate to show us every nook and cranny of Israel, always clutching his Zev Vilnay. Some of the teachers and students in our JFS group found him a little overwhelming but he burned with an infectious enthusiasm that struck a chord with my own love of history. He also, strangely enough, latched on to my own rather quirky sense of humour
Eli Naaman accompanied us on our week touring Gaza, Sinai, the Negev and the Dead Sea by lorry. He had collected an old Lee Enfield 303 from a police station "just in case" as we entered Gaza. I had fired a 303 at UK military ranges so we got chatting. When we returned to MS it was just before Shabbat and almost everyone in our party had arrangements to visit relatives or friends. Not being Jewish we were prepared for our own company when Eli invited us to spend Shabbat with his family which is how we got to know Rachel and her son. Their offer to share that time with a non Jewish couple was an act of great kindness and it was very moving to experience a Jewish Shabbat in Israel.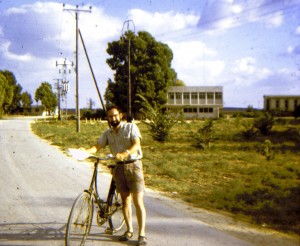 Chaim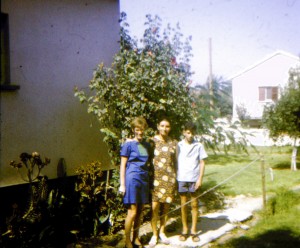 Rachel Naaman and her son, with Beryl
And Merkaz Shapira?  When I compared my  photos with Google street view it was obvious that things had changed a lot. But then I realised that is what happens after virtually half a century. Where we live  in Sussex was all fields and copses, streams and narrow country roads fifty years ago ….all built up now…..time moves on even as memories seem crystal clear.
Apologies for the quality of the photos – it was fashionable in the sixties to convert negatives into slides. Unfortunately I cannot find the negatives so we converted the slides into jpegs. Colours are a bit washed out (it was only a cheap camera) and there are specks from the slides. However we do hope they convey something of the Israel of nearly half a century ago….
P S……I have been told that Chaim passed away several years ago and that Rachel Naaman is still living but her son Uzi, the boy in the picture was, sadly, killed in the Yom Kippur war……