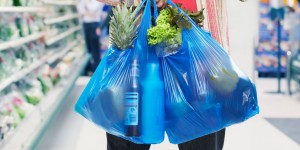 From now on any customer who wants a plastic bag at the check out of every large retailer will have to pay a compulsory 5p levy. The government hopes that this will reduce the use of plastic bags and help the environment.
Of every 5p paid under the new charge, 0.83p will go to the Treasury in VAT and retailers have been told they are expected to give the rest to good causes.
You can bet your Nectar card that the six figure boss of the RSPCA and his fellow big charity chiefs are rubbing their hands with glee at the prospect of shedloads of shekels being forklifted into their money chests via this plastic bag levy. Some of it might go to the front line but you can guarantee that a lot of it will pay for shiny new offices and extra bonuses for those vital "administrators"….
What's more Cameron's government will be getting a slice of the action with that 0.83p. No doubt Samantha Cameron will be persuading Dave to pump that into foreign aid or climate change gifts so that she can feel a warm glow inside at her dinner parties.
So how about we approach this from a different angle. Keep the "good causes" ploy but instead of funnelling it the charity fat cats why not insist that the money raised from the levy goes to charities that are local to each supermarket's catchment area. Indeed most supermarkets already identify with local good causes.
Then, instead of the supermarket bosses deciding which good cause to support while schmoozing with fellow rotarians at the golf club get the customers who pay the levy to decide for themselves by copying the Waitrose way……giving them a plastic token which they then throw into one of three boxes identifying a local good cause. Every two months three new charities would be identified so that over the year at least eighteen organisations would benefit. Then, at the end of the year, each charity would have to publish, in detail, how exactly the money was spent and make the facts available on the supermarket's website, in the local media and via a leaflet issued at each checkout.
Oh and Dave…..why not announce that you won't be taking your cut from the levy so the whole 5p will go to local good causes.
Simples…….