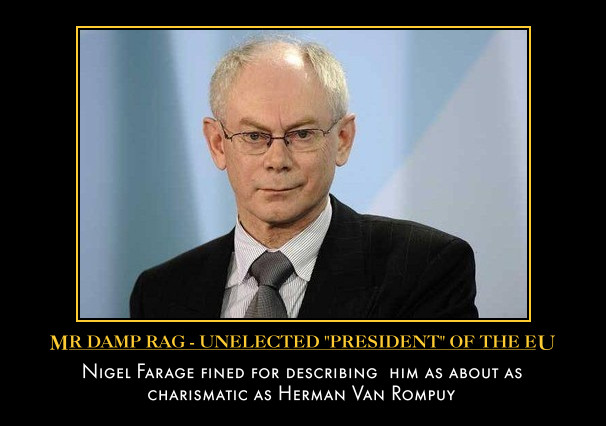 Two years ago UKIP leader and MEP Nigel Farage was fairly blunt with Herman Van Rompuy, the Belgian who was chosen by Eurocrats to be the "President" of the EU
I'm sorry but… and I don't want to be rude, but you know really, you have the charisma of a damp rag and the appearance of a low-grade bank clerk,' he said.
'I sense though that you're competent and capable and dangerous, and I have no doubt that it's your intention to be the quiet assassin of European democracy and the European nation state.
'You appear to have a loathing for the very concept of the existence of nation states – perhaps that's because you come from Belgium which of course is pretty much a non-country.'
He has been fined 3,000 euros for being "rude". But I think you need to place his comments in context. Farage, like many of us, believes that Eurocrats like Van Rompuy treat us with the aloof contempt of the privileged bureaucrat safely embedded in an unelected sinecure and confident that the great project of increasing the power of a self selected elite will grind remorselessly on come hell or high water.
Hence his ploy is to fight contempt with contempt – and the growth in support for UKIP in Britain appears to signal that a lot of us are beginning to feel the same way.
Note, however, that the UK media has been silent about this EU hit on Farage – the story comes from the US edition of the Daily Mail…could it be that our masters have decided to silence Farage by ignoring him?
I think we should be told…