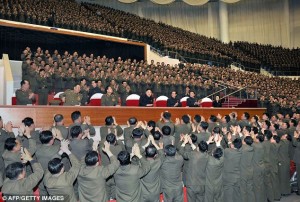 Peter Foster, The Daily Telegraph's hack-in-residence across the pond, pens a hymn of praise for Michelle Obama's 50th birthday that would be the envy of every ambitious scribbler in Pyongyang. In his determination to ferret out the truth he fearlessly tracks down a cross section of everyday ordinary American folks who just happen to part of the Obama circle, fixes them with a steely eye and throws them the killer question.
On a scale of ten to ten just how wonderful a person is Michelle Obama?
I used to think Mark Mardell at the BBC had cornered the market in this type of sycophantic drivel but Foster has played a blinder here. Both of the Obamas are political hacks spawned by the corrupt Daley Chicago machine. Both have an invented back story which covers up the fact that they were eased along the political food chain by patronage and influence rather than achievement. But then what can one expect from "journalists" who merely regurgitate the wishful thinking mythology of the US media/cultural elite?
But brace yourselves, folks – Mr Foster is only using this as dry run for his forthcoming puff pieces on Hillary Clinton so make certain you stock up with sick bags…