Comments Off

on Cameron Insists "Money Is No Object" Re Floods…..Yeah, Right…..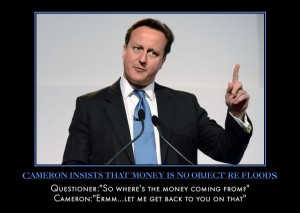 The man who always leaves the restaurant just before the waiter brings the bill……

Comments Off

on Labour Party Leader Ed Miliband Told To "Flood Off" By Angry Villagers….
Wealthy Labour Party leader Ed Miliband visited a village hit by floods in order to show how much he cared for ordinary people and to do something about the rising waters…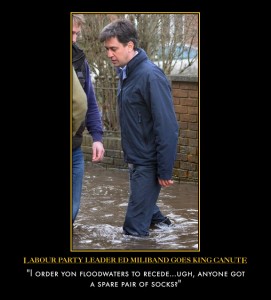 But the villagers were not impressed
there was anger among some locals, including the deputy mayoress of Windsor and Maidenhead, Margaret Lenton, who accused the opposition leader of seeking a photo opportunity and blocking volunteers from doing their work of rescuing people from rising waters.

As Miliband gave an interview to Sky News from the school hall, Lenton called out: "You people get out," and Miliband and his entourage were ushered away.

"I am really angry," Lenton told the Guardian. "What is he doing here? Where have they been all this time? He was standing in the middle of a working organisation where we are trying to get people rescued. He turns up for a photo opportunity when we are now down to hard cases of rescuing old and vulnerable people."

Comments Off

on Farage And The Floods – Somehow He Steals The Show Again…..
While the government's floods "strategy" appears increasingly confused UKIP's Nigel Farage scores points
Actually dresses like a countryman and wears waders rather than wellies from Harrods
Chats to a Sikh chap who has brought down some mates from his temple in Slough to help the locals rather than give PR puff to selected hacks
Suggests  we pay for massive works to lessen flood risk by not sending taxpayers money to corrupt third world regimes via bloated "charities" led by fatcat troughers
Strange how a man totally outside the Westminster bubble of the chattering class is able to hit the spot while Cameron, Clegg and Miliband, surrounded by legions of spin doctors and "brilliant" young interns fresh from Oxbridge  often appear to be 2/3 steps behind…