In answer to the current phone hacking accusations swirling around CNN's Piers Morgan (aka Piers Moron in the UK) the old smoothie adopts his standard posture of injured innocence.
"Not me, guv – must be that other bloke"
Moron hopes that his cheeky chappy routine will once again provide the appropriate coating of Teflon to deflect all accusations so that any future employer will willingly decorate his court jester's hat with even more golden bells.
And he might well be right for Piers sees himself as another Bill Clinton – someone who still walks high with the Cultural Elite despite seducing a young White House intern and ejaculating over her dress. He realises that the liberal/left media will give a pass to one of their own but cry havoc and release the dogs of war if any UK Tory or US Republican even thinks of placing his hand where it shouldn't be.
Piers, you see, is a champagne Socialist, former editor of the left wing UK Tabloid (and circulation dropping) Daily Mirror – and 'twas he who wrote that headline about Americans after W won his second term in 2004
How can 59,054,087 people be so DUMB?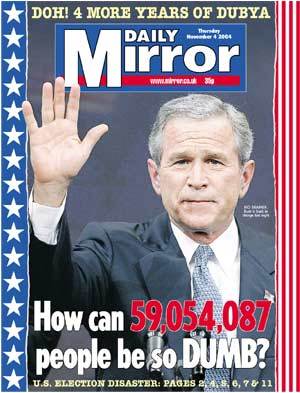 The trouble is, however, that the BBC/Guardian/NYT left wing media nexus has made such a big thing of the Murdoch hacking story that they forgot it was part and parcel of UK press practice for years alongside blagging into someone's personal details via identity fraud and paying off sundry police officers and public officials for information.
It's also the third dark cloud to be swirling around our hero since the turn of the century.
The faked photo of British soldiers abusing Iraqis
Both times PM has slipped Houdini like from the black hole that often sucks in those who sail too close to the wind. But this is Morgan's third little "difficulty".
As Goldfinger famously observed to James bond
"Once is Happenstance. Twice is Coincidence. The third time it's Enemy action".
There are other pressures as well – to be beaten by Rachel Maddow must be particularly humiliating…
Has Piers been finally hit below the waterline?