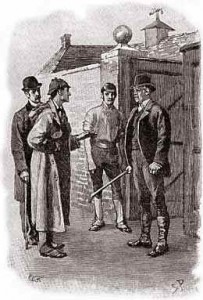 "Is there any point to which you would wish to draw my attention?"

"To the curious incident of the dog in the night-time."

"The dog did nothing in the night-time."

"That was the curious incident," remarked Sherlock Holmes.
The dog that did nothing in the night?
Why, it's the US media, of course which doesn't seem too keen to unravel the mystery behind what appears to be an attempt to discourage conservative bloggers from reporting facts that are already a matter of public record
Read this and then ask yourself why, at present, there is virtually nothing about it on American TV screens and in the pages of those Pulitzer prize winning investigative "journalists" from New York and Washington…or their branch office in London, the BBC.
Surely it cannot be because of certain influences?
However now a trio of ornery conservative saddle tramps like Dan Riehl, Instapundit and Legal Insurrection with many others have gone into the darkened woodshed at night with their torches what rough beast will be revealed slouching in the corner?
BTW, if you think it couldn't happen here just remember this and this…