Nick Ferrari, a UK radio talk show host, wondered if Carole Middleton was dressing appropriately for her age (58 yrs)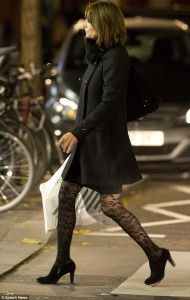 This picture made the newspapers because writers felt that, at 58, she was too old to be wearing clothes like that. So Nick Ferrari wants to know: Is Carole Middleton too old to be racy and lacy?
Nick Ferrari is 53….
Pic h/t Splash   Contact Music