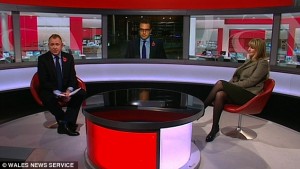 Wow – such a storm over a woman crossing and uncrossing her legs during a TV interview…
A woman politician has created a storm of anger for describing a new government official as a 'cocky little £93k madam crossing her legs Sharon Stone-style'. Former mayoress Ruth Price, 56, hit out watching deputy police and crime commissioner Sophie Howe giving a TV interview
Ruth Price's remarks cause the sort of twitterstorm so beloved of the Daily Mail because itmeans some cheap hack can stay in the office and cut and paste tweets without having to expend any shoeleather. But, oddly enough, nobody seemed to be too bothered about her new job – funded by the taxpayer at a rate of £93,000 per annum.
Ms Howe, 38, was on a programme talking about her new government role as the future generations commissioner for Wales.
Excuse me?
Apparently the role of the Future Generations Commissioner is to make sure ministers' actions are made with sustainability and the long-term interests of Wales in mind because, apparently "Planning for future generations requires a real capacity for making things happen across a wide range of policy areas, agencies and institutions"
There has been some concern that Ms Howe is a bit of a Labour Party insider and might therefore be unwilling to criticise a Welsh Labour government
She was a Labour political appointee to the role of deputy Police and Crime Commissioner and also previously worked as a Special Advisor to a Minister as well as being a failed Labour parliamentary candidate. In fact, if you look at her biography it is clear that she has followed the classical modern route of working as a political hack since leaving university.
Sounds just the ideal person to take over a taxpayer funded non job paying £93k which will mainly involve shuffling bits of paper, sending out meaningless memos and fancy declarations while sitting on platforms crossing and uncrossing her legs.
Just fancy – we thought the Mad Hatter's Tea Party was just a figment of someone's colourful imagination…but then he wasn't paid from money taken out of our pockets by the government….