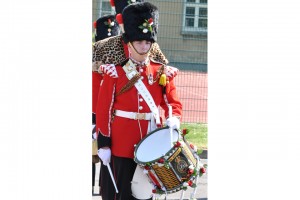 Rest in peace Drummer Lee Rigby of the 2nd Battalion of the Royal Regiment of Fusiliers.
Amidst all the pontificating , posturing and political point scoring let us not forget that the British soldier murdered by jihadist terrorists this week had family and friends who will be shedding tears of grief. Above all his wife and son have lost a husband and father.
We the public will honour him as a one of the soldiers who guard us as we sleep – and who paid the ultimate price for that duty. But two other people have also paid a price – his wife Rebecca and his son Jack.
Surely the time has come for every service man and woman to be secure in the knowledge that whatever fate befalls them at the hands of our enemies their spouses and children will be supported generously for the rest of their lives at the expense of those who they protect – we the taxpayers.
Of course the various service charities do a magnificent job via the generosity of those who donate. But it should not just be finance by choice. Every one of us, whatever our politics or religion or philosophy, should pay the charge through our taxes. Far better that our taxes are used for our guardians than be sent to corrupt third world politicians or feckless benefit scroungers
Drummer Lee Rigby or 'Riggers' to his friends was born in July 1987 in Crumpsall, Manchester. He joined the Army in 2006 and on successful completion of his infantry training course at Infantry Training Centre Catterick was selected to be a member of the Corps of Drums and posted to 2nd Battalion The Royal Regiment of Fusiliers (also known as the 'Second Fusiliers' or '2 RRF').
His first posting was as a machine gunner in Cyprus where the battalion was serving as the resident infantry battalion in Dhekelia. Having performed a plethora of tasks while in Cyprus, he returned to the UK in the early part of 2008 to Hounslow, West London. Here, Drummer Rigby stood proudly outside the royal palaces as part of the battalion's public duties commitment. He was an integral member of the Corps of Drums throughout the battalion's time on public duties, the highlight of which was being a part of the Household Division's Beating Retreat – a real honour for a line infantry Corps of Drums.
In April 2009, Drummer Rigby deployed on operations for the first time to Helmand province, Afghanistan, where he served as a member of the Fire Support Group at Patrol Base Woqab. On returning to the UK he completed a second tour of public duties and then moved with the battalion to Celle, Germany, to be held at a state of high readiness for contingency operations as part of the Small Scale Contingency Battle Group.
In 2011, Drummer Rigby took up a recruiting post in London where he also assisted with duties at the regimental headquarters in the Tower of London.
An extremely popular and witty soldier, Drummer Rigby was a larger than life personality within the Corps of Drums and was well known, liked and respected across the Second Fusiliers. He was a passionate and lifelong Manchester United fan.
A loving father to his son Jack, aged 2 years, he will be sorely missed by all who knew him. The regiment's thoughts and prayers are with his family during this extremely difficult time.

'Once a Fusilier, always a Fusilier'