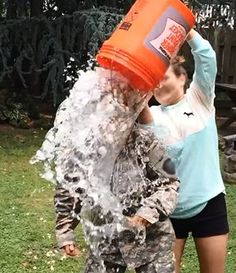 An ice cold bucket of cold water from Roger Helmer MEP over the claim by government minister and former George Osborne bagman Matthew Hancock MP that Brexit would be a "leap in the dark" and lead to a decade of uncertainty – so therefore there is really no safe and sensible alternative to being shackled to the zombie EU.
The alternative to being in the EU is not being in the EU. And far from being a mystery, it is in fact the current state of a hundred-plus countries around the world – most of whom are doing rather better, in economic terms, than the declining and dysfunctional EU.  It is the state that Britain was in for centuries before we joined the "Common Market" less than half a century ago.   I don't think that many Canadians or Australians or Singaporeans wake up in the morning scared to death because their countries are independent and not in the EU.  

For the benefit of Mr. Hancock, let me set out the parameters of Britain post-Brexit.  We shall have a Free Trade Agreement (FTA) with the EU, and contrary to the government's scare story, that will involve negotiation not "with 27 member-states" but with just one interlocutor – the EU itself. 

But imagine a worst case, where we failed to negotiate an FTA. Then, as Matt Hancock knows perfectly well (or ought to know), the default position is simply the WTO rules.   Arm's-length trading on a WTO basis would be less advantageous that an FTA – but not much.  For example, the duties payable on our exports to the EU under the Common External Tariff would be less than half our current net contributions to the EU budget. Dozens of countries around the world trade perfectly well with the EU on WTO terms. The three largest external suppliers into the EU are China, Russia and the USA. None of these has an FTA with the EU, but they trade with it very successfully nonetheless.
Simples….