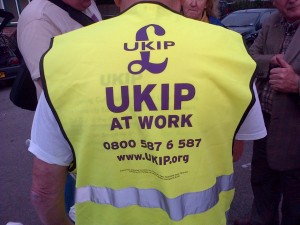 At the weekend I joined up with over fifty UKIP members who popped into Rochester to do a leaflet drop for Mark Reckless who resigned as the local MP a few days ago because he had left the Tory Party and joined UKIP. Being a man of honour he felt he needed to seek the permission of Rochester's voters  to either endorse or reject him under his new colours so he has provoked a by-election. He didn't have to do so – over the last few years several MPs have crossed the floor to other parties and refused to budge from Westminster.
Not so Mr Reckless – and it's a brave move. Rochester has been fairly low down on the UKIP target list so it will be a tough fight (though early signs are promising for UKIP). Furthermore both David Cameron and Boris Johnson (perhaps regressing to their Bullingdon Club coarseness) went quite public with disparaging remarks more suited to midnight at a freshers ball than the halls of political discourse.
I came across a local gentleman who appeared to stand foursquare behind Cameron on this matter. He returned our leaflet accusing Mr Reckless of being a "traitor" to the Conservative Party. I pointed out that, since he was submitting himself to the will of the electors of Rochester there could be no accusation of treason since, in a democracy, there exists a loyalty that must always overide any party subscription – loyalty to one's own fellow citizens.
That is why I went down to Rochester  – to support a brave and honest politician….a rare breed in our current political climate, I fear.