This was one of the two cakes commissioned by William and Kate for their wedding. The chocolate cake was William's boyhood foody fetish.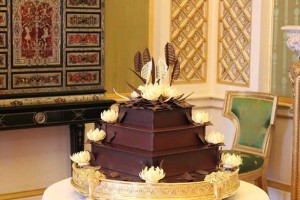 Prince William has asked McVitie's to create one of his favourite sweet treats that will provide an alternative to the official royal wedding cake by Fiona Cairns.

The confectionery delight is being created by the biscuit company at one of its UK plants to a recipe they have received from Buckingham Palace kitchen chefs.

As a young boy the Prince used to enjoy the cake, which is made from crushed rich tea biscuits and dark chocolate.
Please note – Rich Tea biscuits, NOT Digestives!
The royal family said that the dark chocolate to make it could come from anywhere, but the only acceptable biscuits were Rich Tea ones.

Paul Courtney, Cake Design and Development Head Chef told The Telegraph, "Rich Tea are perhaps not the most glamorous biscuits in the world, and now they are taking a starring role in the royal wedding. But they're quite crisp compared to a digestive, and so they'll contrast well with the softness of the chocolate."
The Lovely Mrs P felt it was her patriotic duty to use the very same recipe to grace the table of our more humble abode here in West Sussex.
It was delicious.
It was more than delicious it was the nectar of the gods – and very very rich…
I wish I could provide you with a picture of our cake – but we ate it…every single crumb.
This is what you need
225g Rich Tea Biscuits
115g Salted Butter
3 rounded tablespoons of cocoa powder
55g of caster sugar (superfine sugar)
2 heaped tablespoons Golden Syrup
115g plain chocolate (zero milk) sweet chocolate, not cooking [semisweet]chocolate
Method
Line 20cm cake tin
Roughly crush biscuits in plastic bag with rolling pin
Melt butter and add caster sugar, cocoa powder and Golden Syrup
Melt chocolate and add to mixture with crushed biscuits
Spoon mixture into tin and leave in fridge
Decorate with melted chocolate and/or icing sugar
Then eat – and enjoy……..
For additional info – watch this….