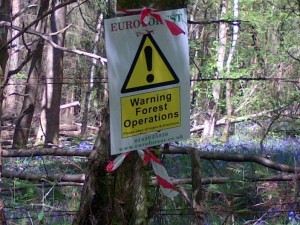 It begins….We now have incontrovertible evidence that only a few days after the Tories election victory the evil Murdoch and fat cat bankers have ordered Cameron to means test all hospital patients and send the poorest into forests for their operations – these signs attached to trees in a rarely visited forest in West Sussex are conclusive proof.
Naturally the illegal Cameron regime is spinning like mad and denying the accusation but we ask – what other possible reason could there be for these notices>
To rub salt in the wound we understand that the money saved will be used to erect a massive statue of Gove crushing starving teachers into submission right outside the offices of the NUT.
Comrades it is time to SMASH THE SYSTEM!!!!!!!!
We call on all revolutionaries to infiltrate the next BBC Question Time audience and cheer Diane Abbott, champion of the proletariat when she mentions "cuts", "food banks" and "austerity". Afterwards a collection will be held to support Lutfur Rahman, driven out of his position of Mayor of Tower Hamlets by fascist bully boys.
Will all revolutionaries please tell their parents to instruct the au pair to stay by the phone in case a solicitor is needed……