My dad lived on a tough estate in Brixton when he was a kid in the 1920s. His own father disappeared from the scene very early on so he and his brother and sisters were brought up by his mum. He recalled that quite a few of his friends were in the same position – only the phrase "single mum" had not then been invented.
Working class couples didn't get divorced but most likely the statistics of separation might have been the same as today. There were also quite a few "common law" wives and "uncles" just living together as "partners" – another word that hadn't been invented yet.
Wives/mothers tended to stay but some men appeared and disappeared as circumstances changed. That's not to say that there were not lots of couples who soldiered through together and did their best even through trying times but dysfunctional relationships are not a monopoly of 21st century Britain.
My dad, through his young eyes, saw drunkenness as a familiar facet of everyday life – not amongst his peers but by watching older men staggering out of pubs as they wended their way home through the streets. And, with the drunkenness there was the violence – between men when tempers flared but, more often, the violence inflicted on the women once the men got home.
Levels of accepted behaviour were different in those days. Some men felt they had the right to slap their children and their wives but, as my dad said, there did seem to be an invisible boundary between what was acceptable – and what was not. Using your wife as a punchbag was not right – but few would dare to intervene between man and wife.
Except Ginger….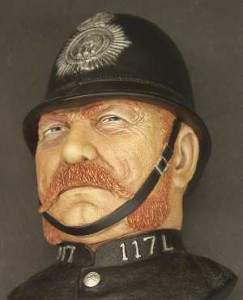 Ginger was the local bobby and the estate was his beat. He walked it regularly and knew everyone and made sure he was aware of what was going on…."intelligence led policing" is what it would be described as today….Ginger would do it by chatting to mums and kids and shopkeepers and milkmen and postmen and the local publican – and by using his eyes.
My dad said he was big and beefy with butcher's hands. He could take a joke but was uncompromising if boundaries were crossed. Several times dad or one of his mates would be dragged by the ear to their home and parents informed in no uncertain terms of the appropriate transgression. No parent argued with Ginger – his word was law…Ginger WAS the law.
Ginger exuded authority and never walked away from trouble. He had great physical presence but dad never recalled him actually hitting anyone…..except when some wife had been used too often as a punchbag by her beer sodden husband or "uncle" – then there followed the same ritual.
Ginger would appear outside the house or block of flats, take off his jacket, fold it neatly and place it on the ground. On top would go his helmet and truncheon. He would then roll up his sleeves and go up to the front door and announce "Police – open up". If nothing happened he would kick it open. Once inside he would hold a fairly one sided discussion with the man. This usually entailed, from visual evidence observed over the next few days, beating six bells out of the man with his bare fists. Ginger would then reappear, put his jacket and helmet back on and proceed down the road in his usual slow ponderous fashion without saying a word.
Nobody thought of going to the police station and complaining. It was rough street justice sanctioned by Ginger's uniform.
Was it right?
Did it end domestic violence? Probably not – but maybe the thought of being at the receiving end of Ginger's fists might have made some men hold back their punches…
Does violence resolve violence? Who can tell….
But I do know Ginger's behaviour made a big impact on my dad, as a youngster, in terms of showing that bad actions could have unpleasant consequences – a kind of down on the street education in the realms of ethics….Ginger as the avenging angel…
It's easy in our supposedly more enlightened culture to be very sniffy and disapproving of how Ginger went about things – but I suspect that a lot of us feel that in an imperfect world it might be comforting to know that Ginger could well be coming round the corner…
BTW…that is not Ginger in the pic, it's just how I imagined him to look like…