I know we should be concerned about Syria, the euro and lots of other problems across the globe. But in reality it's almost always local issues, literally at street level, that get us fired up…maybe because we can actually get a handle on what is happening and the direct impact.
Hence my post on January 26th 2011 was a cri de coeur – yet incredibly the gods smiled upon me..until a few days ago…
When we drive out of our road, Allyington Way, we almost always turn right into Street Hill because that way leads to the main road (B2036) and the M23 or Crawley.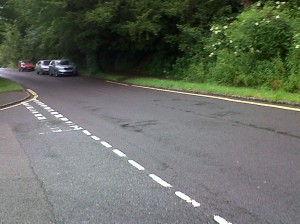 A few months ago turning right would have been a little more difficult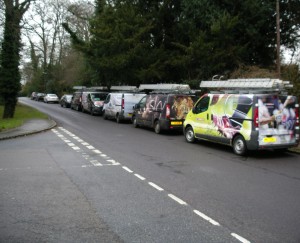 Now once we have turned right we drive about 150 yds downhill along this road to the T junction at the bottom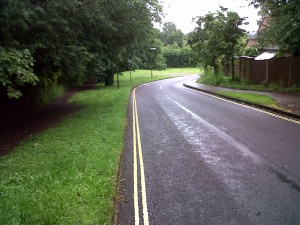 Previously we just hoped and prayed we wouldn't meet another vehicle coming up the hill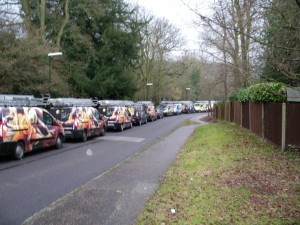 It's quite a busy little hill because it acts as a cut through to avoid traffic on the main road so you can see how pleased the residents of Allyington Way were when West Sussex County Council published a notice saying they were putting down those double yellow lines to ban parking at any time.
A bit draconian to do that, you might ask?
I don't think so.
For many years during weekdays only the odd car parked on Street Hill. At weekends church users might fill the road up but rarely for longer than a couple of hours at the most.
The parking problems came with the construction of a nearby industrial estate by the northbound Jct 10A of the M23. Not only did several employees park all day on the hill but it also appeared to be become regularly used as a storage area for vehicles from the car dealership on the estate. Then at other times it was clogged with Sky vans, either from the industrial estate or maybe from meetings at a nearby hotel. The volume of parking often turned the hill during weekdays into a virtual one way street. The double yellow lines have stopped that. Where these vehicles have gone is unclear (a handful still park in the unlined area further up) but they do not appear, on weekdays, to be parking locally.
You can therefore understand why last week we were astonished to receive a notice from West Sussex County Council saying they were going to remove most of the double yellow lines in the first and third pictures above – thus allowing the return of the inconsiderate parking seen in the second and forth pictures.
Straight away we realised that the restoration of the scene in picture 2 would raise serious issues.
Firstly the pedestrian slope onto the pavement on the east side that is just to the north of the entrance to our road would no longer be protected by yellow lines. Since the upper west side of Street Hill has no pavement this means that, as before, pedestrians who need to cross from west to east might well have to squeeze past parked cars and possibly miss that slope completely…hard luck if you are blind, a wheelchair user or have a toddler in a pushchair….or the grass verge is muddy.
Indeed it would really be going against official guidelines because, at present the double yellow lines opposite our road help to reinforce Para 217 of the Highway Code
217: DO NOT park your vehicle or trailer on the road where it would endanger, inconvenience or obstruct pedestrians or other road users. For example, do not stop
• opposite or within 10 metres (32 feet) of a junction, except in an authorised parking space
• where the kerb has been lowered to help wheelchair users
I know that before the lines were painted weekday parking – and some weekend parking – made a mockery of Para 217 yet the WSCC proposals will allow those inconsiderate drivers to inconvenience local residents once again. It just seems odd that WSCC are quite sanguine about this.
I contacted WSCC and our local WSCC elected member, Councillor Richard Burrett, to find out why. It turned out that a number of people living in Saxon Road about 500yds up the hill had claimed that vehicles would move up closer to them during the week and park in and around their road – what they called "displacement parking".
Fair enough, I suppose. The sensible option would have been to monitor parking for maybe one year to see if that did happen and then make a further judgement on the results. But for some reason there was panic in County Hall and an amended proposal to black out the lines put forward as a "compromise"
This rather cack handed response has made us very unhappy and we are asking ourselves why a so called compromise would actually restore almost everything we had complained about over several years – and why the views of those living further up the hill should carry such weight.
The joke of it is that there is no evidence that on weekdays there has been any "displacement parking" further up the hill and very little at weekends. This is just a big fat nothingburger.
I'm sorry, WSCC, this is simply not good enough. The people of Allyington Way are very unhappy that the residents of another road appear to be able to convince the county council to amend a Traffic Regulation Order by mere speculation rather than systematic monitoring over a twelve month period.