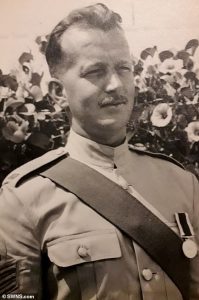 A 90 year old Marine veteran who served from 1947 until 1969 died in a care home a few days ago. It is a sad fact that many who survive to a ripe old age outlive their family and when they die their funerals are sparsely attended, usually just a handful of staff from their care home.
He faced a basic public burial but a local undertaker got in touch with the Royal British Legion, who launched a nationwide appeal for support for his funeral.
So when people heard about Marine Kerr's death, especially so near to our own Remembrance Day, hundreds of them turned out to pay their respects and to honour his service.
There was a substantial presence from service men and women and veterans, local folk from in and around Shrewsbury including a group of teenagers from the local college.
Students from Shrewsbury college attended Royal Marine David McLaren Kerr's funeral. Charlotte Taylor Jones said she saw the appeal for people to attend. Over 40 students were at the service. pic.twitter.com/eQIDMEli9x

— BBC Shropshire (@BBCShropshire) October 16, 2018
Was a pleasure to be there, even though we didn't know him it gave us all a chance to show our respects and how grateful we are for fighting for our country.
The words of these students, expressing their gratitude for the military service of those who either gave or risked their lives to protect future generations, stood in stark contrast with the academic "high flyers" of the Cambridge University Union who voted to reject the red poppy of Remembrance Day as "imperialist propaganda"
God Bless You, Marine Kerr. Rest in Peace and thank you for you service.