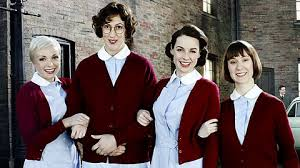 Jo Swinson, the Minister for Women, who became a LibDem MP five years after leaving university (she worked in Marketing and PR) made a sneer at "Call The Midwife" and old fashioned views of mothering at the recent LibDem Conference
'The very idea of men caring for small children or mothers forging successful careers is anathema to many Tories, who'd apparently rather have a Call the Midwife version of parenting. At least we recognise that women might want both a fulfilling job and family life.
It's odd that Ms Swinson should have used CTM as a term of disparagement. The BBC series is one of the most popular programmes of the last twenty years, regularly gathering 10 million viewers per episode. It is gritty and does focus on serious social issues but part of the appeal is also in the characters of the midwives themselves and their relationships. By today's standards they are very prim and proper and,astonishingly, there is no sex….a bit of kissing and cuddling and that's all.
You wonder if part of the appeal of the programme is embedded in the absence of sex as an obsessive topic. There was, of course, plenty of sex going on in the 1950s but it was generally considered a very private matter..a quaint old fashioned view for many of our media elite but possibly those values still appear attractive to many
The respect and love shown for the Queen in her Jubilee year, the popularity of the Great British Bake Off….could it be that the Jo Swinsons of our world are missing the point a little?