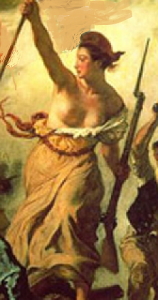 A savage cri de coeur from "Lady Magdalene"  in the comments below a typical piece of political boiler plate penned by resident Telegraph hack Tim Stanley bloviating about "politics in 2015". He's on the usual DT "polyfilla" duty – filling up a few square inches in a slow news week but Lady Magdalene's riposte is a searing indictment of  the political class and the parasitic media leeching from its gorged flesh.
Will there ever be a day of reckoning?
 The modern UK The Establishment and their lackeys in the mainstream political parties created did not have the consent of the British people.

If challenged (not that the media will EVER really do that) they would claim they had a mandate for the following:

Membership of the EU 2. Post WW2 immigration (ie up to Blair's election) 3. Uncontrollable mass immigration (post Blair) 4. Devolution, which ignored the majority English population 5. Multi-culturalism

They would claim a mandate because they won a General Election in which the electorate, pre EEC, were offered two very similar parties. And post EU were offered a "choice" of two virtually identical ones. FPTP prevented anything else and if, by an electoral freak it did, there was always the House of Donors and Cronies to ensure that nothing significant changed.

Our so-called "representative democracy" is nothing of the sort. It doesn't represent the wishes of the people. It legitimises the wishes of The Establishment.

Well now the serfs are revolting ….. at least, a significant percentage of them are.

Cameron got a majority based on 24% – less than a quarter – of the electorate. 75% rejected what The Establishment was offering.

And it's going to get better (or worse) depending on your point of view.

Because a sizeable proportion have rejected what The Establishment wants for their country and they're going to continue doing it..

I simply cannnot understand why ANYONE would want their supposedly democratic country to be governed by an unelected, unaccountable cabal of utterly corrupt and incompetent foreign bureaucrats ….. or the likes of Merkel, Hollande and other foreign politicians.

I want my country back. That's all I've been voting for for 15 years now, and if we lose the EU Referendum, it's all I'll be voting for for the rest of my life.

I REJECT the UK The Establishment has created. I wasn't asked. I didn't want it. And nothing is going to change that.
Amen to that, say I……..