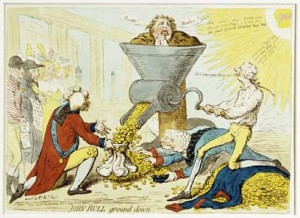 Yes folks, aren't you glad that the money taken out of your pocket via the BBC Poll Tax, enabled so many of the BBC elite to travel back and forth over the Atlantic?
The BBC spent more than £1 million on flights to America in the space of seven months this year, according to figures obtained under the Freedom of Information Act,
Executives including former director-general Mark Thompson clocked up the massive bill flying both business and economy class for meetings and to make programmes.
Yes, forget about the excessive use of fossil fuel and annoying the citizens who live under your flight path – is it absolutely essential to be physically present at those meetings? After all the BBC is television company…can't they organise "virtual" conferences via skype?
Then what about making programmes – the BBC schedules are full of rubbish anyway so is it necessary to spend hundreds of thousands on sending "Top Gear" or Stephen Fry to the USA as a change of background from the usual crap?
Of course, the costs of these visits are even greater when you consider the hotel bills (doubt whether they stay in Motel 6) and cabs, hire cars, restaurants etc
Note that Mark Thompson travelled to the US a lot – did that include visits to his new employer, the New York Times? I think we should be told…
But do you know what, for me, is the most gut wrenching fact of all?
As the BBC is not legally obliged to reveal full details of how it spends the £3.7 billion it is given each year through the licence fee, it is not possible to name every staff member who flew to the U.S. between April and October.
Not good enough – it is this kind of "broad brush accounting" that helps to cover a multitude of sins. It's time we were allowed to see these detailed accounts because, after all, IT IS OUR MONEY, YOU BBC FREELOADERS