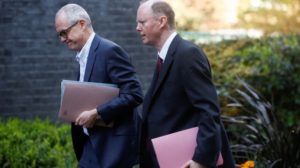 Unlike the rest of us who can bloviate about coronavirus knowing full well that nobody else in the public sphere has to take a blind bit of notice of our Facebook blatherings Sir Patrick Vallance, the UK government's chief scientific adviser, and chief medical officer Prof Chris Whitty bear an unimaginable and unenviable burden of responsibility which few outside the military will ever experience – so anyone who has ever been in a position of authority will understand that being at the top can be a frightening place.
But cometh the hour, cometh the men…
For just when it feels like we're about to enter full-scale coronavirus panic mode, two quiet doctors enter from the wings – and magically chime with our national, keep-calm-and-carry-on temperament.
Dr Chris Whitty, the Chief Medical Officer for England, and Sir Patrick Vallance, the Chief Scientific Adviser to the Government, are just the kind of modest eggheads we crave. They don't make a drama out of a crisis; they just quietly get on with doing the right thing, leaving the frantic jazz hands to others.
Because they're so clever and understated, we trust them. When Dr Whitty quietly lays out the measures needed for the 'delay' phase of the crisis – the symptoms to look for; why we should be isolating ourselves for a week if we have them – we see the sense of it.
When Sir Patrick gently explained, on the Today programme, why it was safer to go to the Cheltenham Gold Cup and watch it live than go to a pub and watch on TV, we listen.
Theirs is a respect rooted in intelligence and achievement, as well as their air of quiet, cool command. Chris Whitty, 53, was brought up in Nigeria, where his late father worked for the British Council. Educated at Malvern and Pembroke College, Oxford, he went on to collect four postgraduate degrees. He is an NHS Consultant Physician at University College London Hospitals and the Hospital for Tropical Diseases. He was a professor at the London School of Hygiene & Tropical Medicine. He's an expert in malaria and Ebola.
Sir Patrick was educated at Truro School and London University and was also a professor (at UCL Medical School). He went on to become head of research and development at the huge pharmaceutical company, GlaxoSmithKline. He's an expert in vascular medicine.
In a world obsessed with celebrities and show-offy Instagram influencers, what a contrast it is when two gentle scientists against their better wishes, take centre-stage.
It's the return of the boffin, the understated hero, who dominates our attention by not shrieking for it…