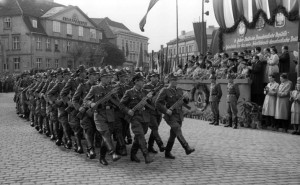 Yep-those UK Jewish/Mormon/Hindu/Christian/Sikh/Buddhist youth groups are all "radicalising" young terrorists….
Ofsted inspectors could be sent into Sunday schools, church youth groups, Scout troops and even bell ringing circles to search for signs of children being "radicalised" under new counter-extremism plans, church leaders and voluntary groups fear. The proposals, backed by David Cameron, could lead to thousands of "out-of-school education settings" having to be formally registered for the first time and facing inspections to judge whether they are promoting so-called "British values".
That's right – David Cameron and Secretary of Education Nicky Morgan are both pimping this grand plan to recruit legions of snoopers to sit in on your daughter's ballet class or your son's football squad training in case they are being given lessons to construct a clock bomb or a suicide vest;
Radicalisation
It's the current buzzword on the lips of the great and the good. In walks a perfectly normal teenager, ears glued to ipod with that global look of adolescent sullenness. Teacher/coach/instructor mouths a few magic word, waves a wand and same teenager straightens up, dons a burka or bomb vest and is ready to hit the street to kill and maim a posse of non believers – then up stands Mr/Ms Ofsted Snooper, shoves a list of "British Values" in the teenagers face and – bingo – he/she reverts back into obnoxious acne scarred youthdom.
Well, that's what Nicky Morgan thinks will work…
Before 1933 Germany was a nation full of clubs and groups for young and old…hobbyists, athletes, petlovers, drinkers, the lot. Within two years the Nazis had subsumed them all under the NSDAP umbrella. Nazi eyes and ears made certain that every one of those groups conformed to Hitler's worldview and the individualistic and the eccentric were smothered under a blanket of brown mediocrity. The same happened in the old Soviet Union and those counti
These Cameron/Morgan proposals are exactly the same. Because our rulers are so terrified of focusing on the one community where a minority of fanatics are eager to recruit new agents to break our bones and bodies in order to bend us to their will they have to go through this charade of tarring us all with the same brush.
And they have the nerve to call Trump a fascist?
Give me strength….