That's right – you can buy your kids their own personal airship.
Actually it's looks like an 8m long black bin liner but don't be fooled…
To unleash its might, just fill it with common-or-garden air, and it will amply demonstrate the power of solar energy. This Airship is different from anything invented by the Montgolfier Brothers or Count von Zeppelin… and simply uses nature's most abundant gases and the power of the sun to inflate its sausage-like shape–no pumps or puff are required. All you need is a reasonably calm and sunny day. When exposed to the sun's radiation, the gases in the airship become excited, increasing in temperature and pressure… and lift the mighty tube majestically into the air.
You know what? We tried it on our grandchildren – and it works!
So here's the gang
Hannah and Oliver watched their dads get it going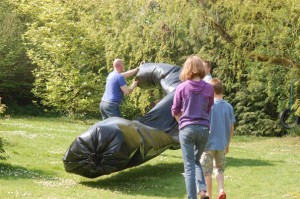 ….and it really does fill up….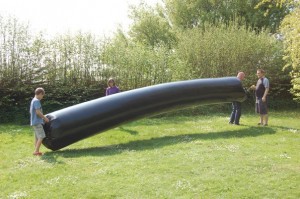 ….and we have lift off – so hold that line tight…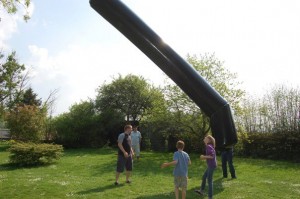 Oliver concentrates on control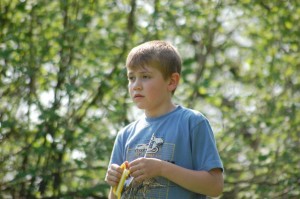 Evie gets excited..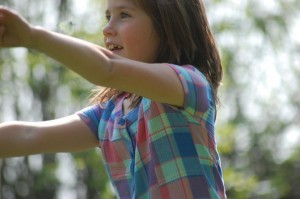 Pippa is not so sure…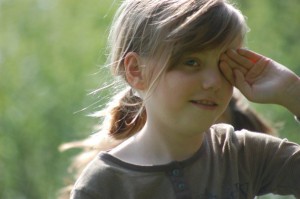 Harry thinks it's awesome…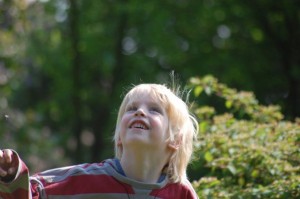 ..and Hannah, being 12, says "yah, that is like so cool…."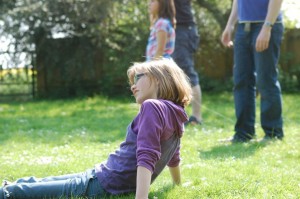 Up, up and awayyyyyyy….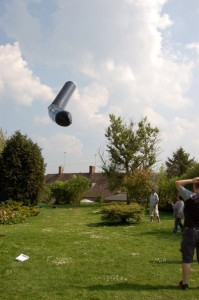 It was great fun and it did work. Of course we had to be careful of low flying aircraft…
The trouble was too many trees around with branches to tear the thin fabric. Sellotape helped for a while but eventually the blimp went R101 and further flights were cancelled.
But when we get our new one we'll fly it from open ground far away from the trees so eat your heart out Count Von Zeppelin….