In March 2009 the 2nd Battalion of the Royal Anglian Regiment ("The Poachers") returned from a tour of duty in Afghanistan and marched through the streets of Luton, one of their main recruiting towns, with bayonets fixed and colours flying.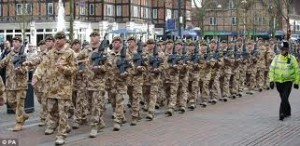 The streets were crowded with families, friends and citizens, all giving them a proud welcome – except for one tiny group of local muslims who taunted them with banners and jeers, calling the soldiers rapists, murderers and baby killers.
Police protected them from angry locals but five of the protesters were later convicted of abusive conduct and harassment.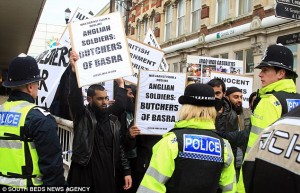 The five appealed to the High Court, claiming that they were merely exercising their right of free speech under the European Convention of Human Rights and, frankly, many expected their appeal to be accepted given the current record of our courts and judges.
But we were in for a surprise – not only did the High Court dismiss their plea but Lord Justices Gross and Davis laid down an important marker for this and future cases
The focus on minority rights "should not result in overlooking the rights of the majority" when it comes to freedom of speech
The High Court said the freedom to protest was an important right and protesters should be protected but it was not an unqualified right and, when it turned abusive it was a clear threat to public order and was therefore a breach of the law
These were not just generalised statements of views, vigorously expressed, on the morality of the war but were personally abusive and potentially defamatory of those soldiers.

That the soldiers themselves were, as it happened, broad shouldered enough not to care one jot does not matter
Common sense on "human rights" from a High Court Judge – I'll drink to that….