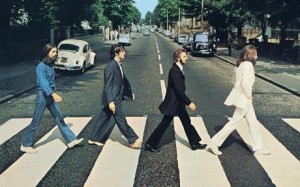 Rest easy all you old folk – one of the great icons of your youth is now saved for eternity or the last trump (whichever comes first)….the hallowed black and white tarmac on Abbey Road, London NW8, which graced the cover of the Beatles 1969 "Abbey Road" album, is safe.
John Penrose, the tourism minister, will announce today that the Government is to publish an order granting the crossing Grade II-listed status on the advice of English Heritage. A Grade II listing, the most common protected status, means that a building or monument is recognised as nationally important and of special interest.
So now it cannot be moved or transformed into another type of pedestrian crossing. Generations of Beatles fans can imitate their heroes forever – and all they have to do is cross a road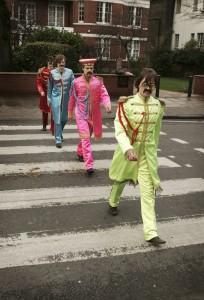 Sweet – and so nice for the old people to know that not all their 60s memories will crumble into dust.  Indeed, for the hardcore Beatlemaniac, they can watch the Abbey Road crossing in real time – a great way to keep grandad occupied and out of the way.
One more fascinating factoid – tell granny and grandad that "Abbey Road" is as far away from 2010 as "If I Had A Talking Picture of You" by Johnny Hamp's Kentuckey Serenaders, one of the biggest hits of 1929, was from the Beatles…
But you didn't hear much about the Kentuckey Serenaders in 1969….