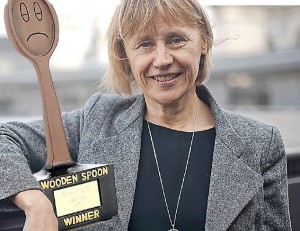 Lin Homer, Chief Executive of HMRC since 2012, is back in the news. It appears that we, her employers, are being unreasonable in expecting good customer service.
The boss of crisis-hit HMRC has urged taxpayers to contact them online rather than by phone to avoid huge waits.

Lin Homer apologised for her department's 'poor service', but said she would respond failures by telling people to go online instead of boosting the number of call centre staff so people can get through by telephone.

It follows the admission that just half of calls to HM Revenue & Customs were answered between April and June, with some having to wait three quarters of an hour.
But then since 2005 Mrs Homer has frequently been accused of alleged incompetence in a variety of taxpayer funded roles
Chief Executive of Birmingham City Council 2002-2005
In 2005, Homer was criticised by the Election Commissioner for failings in her role as returning officer during a postal vote-rigging scandal in Birmingham in 2005
The petitioners also accused the city's returning officer and chief executive Lin Homer of failing to discharge her duties in accordance with electoral law.

Judge Mawrey said that Ms Homer "threw the rule book out of the window" to deal with overwhelming numbers of postal vote application forms received.

He also  said fraud in the city 'would have disgraced a banana republic'. He described Mrs Homer's decision to allow postal ballot papers to be transported to the count in shopping bags as 'the direst folly'.
Head of Immigration Service 2005-2011
She was then chosen by the Home Office to run what was then called the Immigration and Nationality Directorate – this time on £200,000, plus bonuses.
Already in chaos, it was on her watch in 2006 that we learned of the mistaken release of 1,000 foreign criminals. It later emerged some 450,000 asylum cases had not been dealt with but left in boxes at the Home Office. The new UKBA was meant to clear up the mess, and Mrs Homer became its first chief executive, on an astonishing £208,000 a year. But among a fresh run of scandals was the revelation that nearly 400 of the 1,000 foreign prisoners were told they could stay in Britain and dozens remained untraced.
2011 Chief of Dept for Transport
Mrs Homer was the Permanent Secretary at the DfT throughout 2011 when details of the new rail franchise business model were being thrashed out.
She was named by Sir Richard Branson last month as one of a handful of officials at the department whom his Virgin Rail team met during 2011 to voice concerns over the bid process.

Those concerns were ignored, said the rail boss whose warnings proved correct last week when the Government U-turned on its decision to award the lucrative franchise to his rival First Group due to an alleged catastrophic business model error.

The mistake is estimated to cost taxpayers £100million and the DfT has now been labelled "not fit for purpose".
Her record of apparently gliding through disaster after disaster with immunity has not gone unobserved
Douglas Carswell MP (UKIP) "We seem to be governed by a clique of mandarins who bounce from one highly remunerated job in Whitehall to another and there doesn't seem to be any proper democratic scrutiny as to whether they've done a good job in one role before they get the next one."
Matthew Sinclair, chief executive of the TaxPayers' Alliance  "The public bodies for which Lin Homer has worked all appear to have been plagued by problems and left taxpayers paying the price of failure.
You've missed the point, gentlemen. In 21st century Britain if you are in government or politics, unlike almost any other aspect of life, incompetence is rewarded.
After all, it's only taxpayers money, isn't it….and at the moment Lin Homer is collecting it….
Pic h/t: This Is Money