It's a choir of women – but they are very special women, very special indeed.
They are British military wives – and their husbands have just got back from a tour of duty in Afghanistan.
For several months they were on their own, waiting every second of every minute of every day for "that message" – and all the time having to do the mundane family things with the kids and the house and without much of a social network because the families move bases so often they rarely have time to root themselves into a community.
Enter choirmaster Gareth Malone.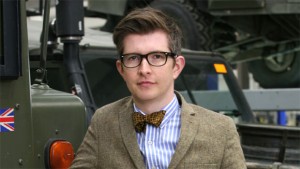 A soldier's wife wrote to him and suggested he take a group of those women and form them into a choir.
Now Malone is no ordinary choirmaster.

After a postgraduate degree at the Royal Academy of Music, his infectious enthusiasm was spotted by a TV production company seeking a choirmaster to front a new programme about music in schools.
The result was the first series of The Choir, which saw Malone take a group of surly teenagers and prepare them for the performance of their lives at an international choral competition.
Three similar series (and two BAFTAs) followed — as as well as marriage to Becky, an English teacher… and the birth of their daughter, Esther
.
So he took up the challenge which is why earlier this year he found himself and his BBC TV crew in a Royal Marine base in Devon. He realised that his passionate belief in the power of music to transform people's lives would certainly be tested in this environment.

"Because they are, to use a hackneyed phrase, unsung heroes. We sing about the Forces and everything they do, but not the people who are left behind. It seemed to me a missing part of the story. Some of the women I've been working with have got husbands or sons in really frontline positions. That's very, very stressful."
"These women have complex lives, and responsibilities. That makes them rich and fertile territory for a choir – because you're drawing something out of them that they like to keep hidden. I think everyone felt that it's positive to get those difficult feelings out through singing."
It wasn't easy. Many of the women were shy and self conscious and few had any ever sung in public. But over the months, although there were many ups and downs the women bonded and were transformed from "nervous novices into full voiced confident choristers"
Malone, ("geeky, glasses, bow ties, tweed jackets") had never ever had anything to do with the services and was distinctly nervous about how he would be received by a military community that tends to keep to itself. But his passion for music, his unbridled enthusiasm and dogged determination won them over.
In the gloomy Officers' Mess of a rain-swept Royal Marines base on a miserable October morning, choirmaster Gareth Malone is chatting animatedly about the importance of encouraging people to sing, when he is interrupted by a very large, rather menacing individual in green Army fatigues.
"I just wanted to shake your hand," the marine says, thrusting out his own massive mitt towards Malone. "My wife thinks you're the dog's bollocks"
The contrast between the fresh-faced, bespectacled, slightly fogey-ish choirmaster and this gruff giant of British military manhood borders on the comical. Yet the encounter illustrates the degree to which Malone, while making his latest TV project The Choir: Military Wives, has charmed his way into the trust of the soldiers – and, more crucially, the soldiers' wives – of RMB Chivenor in remote north Devon

Finally Malone and the Military Wives sang in November at the Festival of Remembrance at London's Royal Albert Hall before the Queen and a huge audience inside the concert hall and live to millions watching on TV. They sang "Wherever You Are" composed by Paul Mealor. He drew the words from extracts given to him by the families, extracts from letter and poems written by the wives and their husbands while they were parted.
Remember the vast majority of these women had never sung in public before March 2011 – and the words they were singing came straight from their hearts…….
That murmur, soon replies, "God doth not need
Either man's work or his own gifts. Who best
Bear his mild yoke, they serve him best. His state
Is kingly: thousands at his bidding speed,
And post o'er land and ocean without rest;
They also serve who only stand and wait.
See their very first rehearsal here and their first public performance here.
UPDATE See the official Military Wives Choir video with lyrics here – and pre order the single here….there are three good reasons to buy the single
1 It's a beautiful song beautifully sung
2 All proceeds go to service charities
3 By making it the UK Christmas #1 you will be giving Simon Cowell's and his X Factor a poke in the eye