Forty something UK "journalist" Samantha Brick should be scored a perfect ten for achieving maximum publicity with minimum talent. Her cri de coeur about the downside of being so beautiful has impacted the world like a tsunami – why it's even been picked up by the leading American political website at Hot Air…
I'm tall, slim, blonde and, so I'm often told, a good-looking woman. I know how lucky I am. But there are downsides to being pretty — the main one being that other women hate me for no other reason than my lovely looks.
True, most of the reaction has been scornful and positively insulting but Samantha doesn't care. Playing out the old showbiz adage that there can never be such a thing as bad publicity Ms Brick will reap a golden dividend of TV appearances, radio interviews and magazine articles. A book and probably a film will almost certainly be on the way as well.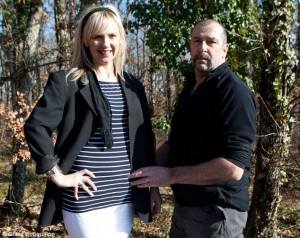 Some achievement for a woman who changed career midlife from being a self proclaimed "top TV executive" (large pinch of salt needed here) to a lifestyle scribbler after having decamped across the channel to marry a Frenchman.Within microseconds of marrying Pascal she had become an expert on all things Francais, pumping out, via the UK Daily Mail, articles on stepmothering, household management, cooking and keeping slim a la Francais….oh plus "trying for a baby" and little sideswipes against former colleagues and, naturally, her first husband.
Every article is shallow, derivative and self obsessed – in other words perfect material for the Daily Mail which appears to thrive in its crusade to portray women as emotionally unstable airheads concerned primarily with their clothes, waist size and the workings of their internal pumping systems. It's a misogynistic approach which irritates not only feminists but also those of us who appreciate the strengths and values of the women in our lives. But it has not harmed the financial viability of the Daily Mail so why should they care?
It's called Polyfilla journalism partly after the DIY product so handy for filling up gaps and holes in walls and ceilings and the Polly Filler character in Private Eye "a vapid and self-centred female "lifestyle" columnist, whose irrelevant personal escapades and gossip serve solely to fill column inches". Editors abhor empty spaces in their papers so a whole legion of Samantha Bricks earn a generous living regurgitating and slightly reconfiguring articles on sex, fashion, marriage, divorce, careers and diets. Most pass easily down the memory hole but sometimes, as in Brick's latest piece of vacuous scribble, they hit a mother lode of controversy which generates publicity and sells extra copies.
She might not have much talent or sense of perspective but she deserves a brief salute for her chutzpah, surely…..